The Importance of a 12-Month Wedding Timeline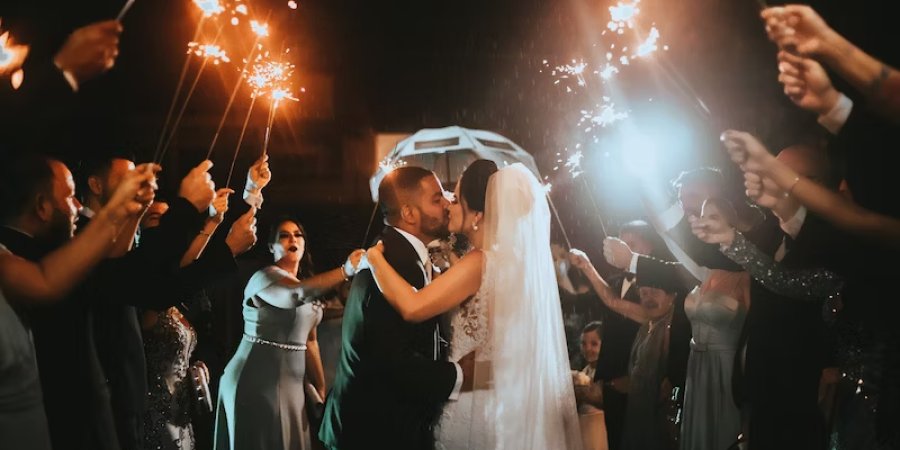 Planning a wedding is an exciting and joyous time in your life, but it can also be overwhelming if you don't have a clear plan in place. That's where a 12-month wedding timeline comes in. This comprehensive guide will help you stay organized and ensure that you don't miss any important details along the way. From setting the date to finalizing all the wedding details, this timeline will be your ultimate companion throughout the planning process.
Month 1: Setting the Date and Creating a Budget
The first month of wedding planning is all about setting the foundation for your big day. Start by choosing a date that is meaningful to you and your partner. Consider factors such as the weather, availability of venues, and any potential conflicts with other important events.
Once you have a date in mind, it's time to create a budget. Determine how much you are willing to spend on each aspect of your wedding, including the venue, catering, attire, decorations, and entertainment. Be realistic about your budget and make sure to leave room for unexpected expenses.
Month 2: Hiring a Wedding Planner and Selecting a Venue
If you're feeling overwhelmed by the idea of planning your wedding on your own, consider hiring a wedding planner. A professional planner can help you navigate the entire planning process, from finding the perfect venue to coordinating with vendors and managing the day-of logistics.
Speaking of venues, month 2 is the perfect time to start visiting potential locations. Consider factors such as the size, style, and location of the venue. Don't forget to take into account your budget and the number of guests you plan to invite. Once you've found the perfect venue, secure your date by signing a contract and putting down a deposit.
Month 3: Choosing a Wedding Theme and Creating a Guest List
Now that you have your venue secured, it's time to start thinking about the overall theme and style of your wedding. Whether you envision a rustic outdoor affair or a glamorous ballroom celebration, choose a theme that reflects your personality as a couple.
Alongside choosing a theme, start creating your guest list. This can be a daunting task, but it's important to get an idea of how many people you will be inviting early on. Consider your budget, venue capacity, and any special considerations when finalizing your guest list.
Month 4: Hiring Vendors and Booking Your Caterer
Month 4 is all about bringing your wedding vision to life by hiring the right vendors. This includes booking a photographer, videographer, florist, and entertainment. Do your research, read reviews, and meet with potential vendors to ensure they align with your style and budget.
One of the most important vendors to book during this month is your caterer. Schedule tastings, discuss menu options, and finalize the details of your reception meal. Keep in mind any dietary restrictions or special requests from your guests.
Month 5: Finding the Perfect Wedding Dress and Selecting Your Bridal Party
Now that you have the major vendors booked, it's time to focus on the finer details of your wedding. Begin your search for the perfect wedding dress by browsing bridal magazines, visiting bridal boutiques, and scheduling appointments to try on different styles.
In addition to finding your dream dress, choose your bridal party during this month. Consider the important people in your life who you would like to have by your side on your special day. Make sure to communicate your expectations and responsibilities to your bridal party members.
Month 6: Sending out Save-the-Dates and Planning the Ceremony
With six months to go, it's time to officially announce your wedding date to your guests. Send out save-the-date cards or emails to give your loved ones ample time to plan and make travel arrangements.
While you're at it, start planning the details of your ceremony. Meet with your officiant to discuss the order of events, vows, and any special rituals or readings you would like to incorporate. Consider the overall atmosphere and ambiance you want to create during this significant moment.
Month 7: Organizing Transportation and Accommodations for Guests
As your wedding day approaches, it's important to ensure that your guests have a smooth and comfortable experience. Arrange transportation for your bridal party and consider providing transportation options for your guests, especially if your venue is located far from accommodations.
Speaking of accommodations, block off a group of hotel rooms for your out-of-town guests. Negotiate discounted rates and provide them with all the necessary information to make their reservations.
Month 8: Finalizing the Menu and Selecting Wedding Favors
By month 8, many of the major decisions have been made, and it's time to focus on the smaller details. Finalize your menu with your caterer, ensuring that it aligns with your theme and satisfies the dietary needs of your guests.
In addition to the menu, select wedding favors that will leave a lasting impression on your guests. Choose items that are meaningful, practical, and reflect your personal style as a couple.
Month 9: Planning the Honeymoon and Creating a Wedding Website
With the wedding day fast approaching, it's time to start planning your honeymoon. Research potential destinations, book flights and accommodations, and create an itinerary for your romantic getaway. Don't forget to share your honeymoon registry with your guests, giving them the option to contribute to your dream vacation.
In addition to the honeymoon, create a wedding website to keep your guests informed about the details of your wedding. Include information about the venue, accommodations, registry, and any other pertinent details.
Month 10: Finalizing the Ceremony and Reception Details
With just two months left until your wedding day, it's time to finalize all the details of your ceremony and reception. Meet with your florist to discuss floral arrangements and decorations. Coordinate with your entertainment to create a playlist that reflects your musical taste and gets your guests on the dance floor.
During this month, also schedule your hair and makeup trials to ensure that you look and feel your best on your special day. Don't forget to communicate any specific requests or preferences to your stylists.
Month 11: Sending out Wedding Invitations and Organizing RSVPs
As your wedding day draws near, it's time to send out your formal wedding invitations. Include all the necessary details, such as the ceremony and reception times, dress code, and any additional instructions for your guests.
Keep track of RSVPs as they come in and follow up with any guests who haven't responded. This will help you finalize your guest count and make any necessary adjustments to your plans.
Month 12: Finalizing All Details and Enjoying the Final Weeks Leading up to the Wedding
The final month before your wedding is all about tying up loose ends and enjoying the excitement of your impending nuptials. Confirm all the details with your vendors, including arrival times, setup instructions, and any special requests.
Take some time to relax and pamper yourself in the weeks leading up to your wedding. Get a massage, practice self-care, and spend quality time with your loved ones. Trust that you have done everything you can to make your wedding day perfect and enjoy the journey.
Conclusion: The Importance of Staying Organized and Following a Wedding Timeline
Planning a wedding is a significant undertaking, but with a well-organized 12-month timeline, you can ensure that nothing falls through the cracks. From setting the date and creating a budget to finalizing all the details, following a timeline allows you to tackle each task at a comfortable pace.
Remember, this timeline is just a guideline, and every wedding is unique. Feel free to adjust it to suit your preferences and planning style. Stay organized, communicate with your partner and vendors, and most importantly, enjoy the journey to your perfect wedding day.